Rendering a tree view in the terminal with Python and Rich
The latest version of Rich adds a tree view. Here's an example of one: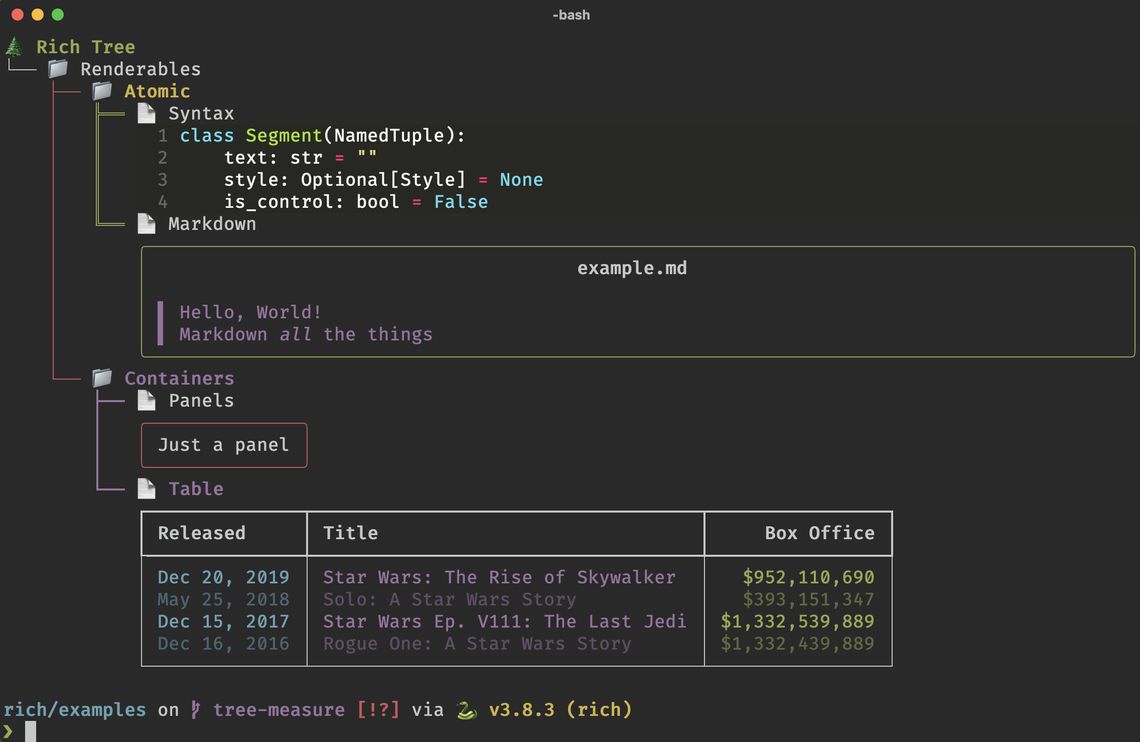 The labels of each branch in the tree can be text or anything else that rich can render. The guide lines can have a color per-branch and one of three styles; normal, thick, and double line.
The API to generate these trees is super simple and currently has just one public method to add a new branch.
Here's a simple example demonstrating that money does, in fact, grow on trees.
>>> from rich.tree import Tree
>>> from rich import print
>>> tree = Tree(":deciduous_tree: Money does grow on trees!")
>>> tree.add(":dollar_banknote:").add(":dollar_banknote:").add(":dollar_banknote:")
>>> print(tree)


There are many things that fit well in to a tree structure and I'm looking forward to seeing what people do with this. The most obvious application is of course displaying the contents of a filesystem. In Rich's example directory you will find tree.py which works like the linux tree command and displays the contents of a directory in a tree. In this version, the Python files are indicated by a 🐍emoji (of course).
Here's an example of the output:
If this post has left you scratching your head, Rich is my Python library for rich text and beautiful formatting in the terminal.
Follow @willmcgugan for Rich related stuff.