Food File is now Open Source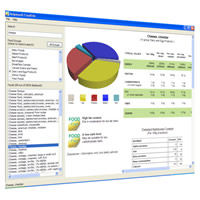 Food File is one of the first moderately sized wxPython applications I wrote. It is a rich interface to the US Department of Agriculture nutrition database, with html output and neat 3D pie-charts (everyone loves a good pie-chart)! For a while I was selling it commercially, but it didn't do so well - probably because I'm not a great business man. I'm an engineer. I make things, I just can't seem to sell them! So I gave it away for free and tried to make money from Google Ads, which worked for a while, but it became so popular that my bandwidth bills overtook the pittance I got from the ads.

The consequence of this tale of woe is that I have released Food File as open source, so that I can collect on karma rather than hard cash. The source and Win32 installer is now available on Google Code, so those nice folks at Google can pick up the bandwidth bill. I hear they are not short of a few cents.

Food File downloads

Food File was written quite hastily, and then tweaked and enhanced over a few months. The code could be better, but I'm fairly pleased with the end result. It does some pretty cool things, like updating the search as you type and rendering neat 3D pie-charts. The nutrition database is actually stored as a large flat-file, which is how it is shipped. I did investigate using an SQL solution, but it turns out that a brute-force search of 7000+ items on a list can be done in the blink of an eye. Go Python. The source may be useful to anyone interested in writing a wxWindows application, there are a few gems that could be ripped out.

I probably wont be maintaining this project, which is a shame because there are many enhancements that could be done. I'm hoping that somebody will offer to take over the project and add some polish and new features. Installers for other platforms would also be appreciated. If you would like to help, let me know!