A few years ago I had a tank of sea monkeys. If you are not familiar with sea monkeys - they are a kind of brine shrimp that has been marketed as a kids toy. They come as a little sachet of eggs with a plastic tank. You add water and they hatch within hours. It's the most marvelous, stress-busting executive toy you can buy. I loved my sea monkeys so much, it inspired me to write an artificial life demo (for PC).
I was thinking of buying some more of these beasties, but I ended up purchasing triops, which are a similar type of instant life crustacean. They are a little bigger than sea monkeys, and carnivorous (sea monkeys just filter nutrients from the water)! Strangely though, they are a little harder to raise. The sea monkeys were almost self-sufficient; eventualy algae grew in the tank and you didn't have to feed them any more. The triops are more fussy, they need water at a specific temperature, regular feeding and water changing.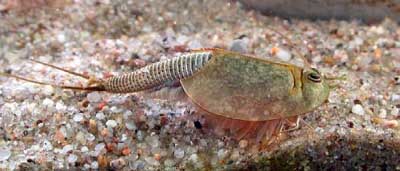 The gravel and nutrient bag have been soaking over-night. Today I shall add the eggs to the water, and by tomorrow I should have a dozen or so hatchlings!